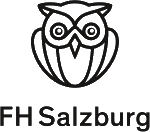 Salzburg University of Applied Sciences
offers its 2700 students a first-rate academic education with practical courses, a strong focus on research and plenty of opportunities in the following disciplines:
Engineering, Business and Social Sciences, Design, Media and Arts
and
Health Studies
. With its international outlook and focus on innovative research and teaching, the university is a pioneer of future-oriented solutions for business and society, particularly in the dynamic subject areas of technology, health and media.
Find out more at www.fh-salzburg.ac.at
For the interdisciplinary cooperation of the Degree Programmes in the departments Business Management and Information Technology we are hiring for the following position:

Senior Lecturer international coordination (f/m)
Your tasks
Organization of international student and teacher mobility in both departments
Establishment and expansion of international cooperation networks as well as the maintenance of international university partnerships
Conceptualization and development of an internationalization strategy in the fields of Business Management and Information Technology
Organization of international events (eg Summer School) and short-term mobilitys
Teaching, especially in the field of Incomings
Applications to promote international student and teacher exchange
Our requirements
A completed university degree (Master, Diploma), a dissertation would be desirable
Several years of professional experience in the field of international university cooperation or adequate work experience
Excellent knowledge of English and very good knowledge of German
Several years of experience in teaching at university-level
Willingness to business trips and networking
Self-sufficient operation and organizational skills
Intercultural communication skills, excellent social skills and the ability to work as part of a team
We can offer a stimulating and varied role within an interdisciplinary environment, at a dynamic higher education institution.
The Salzburg University of Applied Sciences is committed to diversity and equality. Applicants with disabilities are favored
Perks
Working hours: 20 hours per week
Job location: Campus Urstein
Start date: 09/2018
Closing date for applications: 17.06.2018
Salary: from € 25.340, - gross annual salary (or higher: amount of remuneration based on qualifications and work experience)
Application code: bwi-18-75
Please apply online. Prepare a letter of application, your personal CV and relevant certificates for that. We look forward to receiving your application.
Technology
Health
Media