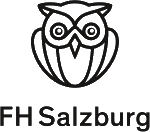 Salzburg University of Applied Sciences
offers its 2700 students a first-rate academic education with practical courses, a strong focus on research and plenty of opportunities in the following disciplines:
Engineering, Business and Social Sciences, Design, Media and Arts
and
Health Studies
. With its international outlook and focus on innovative research and teaching, the university is a pioneer of future-oriented solutions for business and society, particularly in the dynamic subject areas of technology, health and media.
Find out more at www.fh-salzburg.ac.at
The MultiMedia Technology degree programme at the Salzburg University of Applied Sciences offers a course of study in media information technology with a particular emphasis on Game Development & Mixed Reality, Web and Mobile Development. The distinctive features of the degree programme include practical projects, applied research, close relationships with the web development community (e.g. https://2018.conc.at), high student satisfaction ratings (CHE University Ranking) and the promotion of interdisciplinary connections with the MultiMediaArt creative degree programme.

We are seeking to make the following permanent appointment - in part time - to the MultiMediaTechnology Bachelor and Master programme:

Senior Lecturer Web Development & User Experience (f/m)
With potential for progression to a University of Applied Sciences professorship
We are looking for
a competent and inspirational individual with comprehensive knowledge and practical experience in the conception and development of web applications for desktop, mobile and IoT. You will possess several years of experience of current programming languages, relevant frameworks, modern tool chains, as well as concepts and applications in the areas of web development and user experience. You will be capable of communicating basic theoretical principles and also their practical application through structured and in-depth teaching.
As a member of the Web Development Department, you will support the development of a clear teaching and research focus. You will follow current trends in web development, in order to integrate these into the curriculum and implement them in your teaching.
Your tasks:
Teaching on basic courses in the area of web development (front end and back end) as well as on appropriate in-depth specialisations within the master programme, partly in English
Supervising bachelor's and master's dissertations and projects
Acquiring and conducting research and/or practice-oriented projects
Academic and organisational cooperation within the degree programme
Involvement in the further qualitative development of the bachelor and master programme
Our requirements:
A completed university degree in a relevant subject (Master, Diploma),
a relevant doctorate would be desirable
Several years of professional experience in a senior web development role within an agile working environment
Experience in teaching at university-level
Experience in working with a variety of front end technologies and architectural principles (e.g. ES6, Angular, React, REST, GraphQL, Firebase, etc.)
Demonstrable knowledge in the area of UX, in particular UI and Interaction Design
Fun working with students and excellent social skills
A developed sense of creativity, enthusiasm and the ability to work as part of a team
Excellent knowledge of German and English
We can offer a stimulating and varied role within an interdisciplinary environment, at a dynamic higher education institution.
Perks
Teaching hours: 8 teaching hours per week
Location: Urstein campus
Professorship: The term FH-Professor / FH-Professorin is awarded by the FH-Kollegium in an academic procedure independent of the contract of employment. The provision of the required evidence in the fields of teaching and research is required.
Start date: by arrangement
Salary: from € 25,340 gross annual salary
Closing date for applications: 15/05/2018
Technik
Gesundheit
Medien